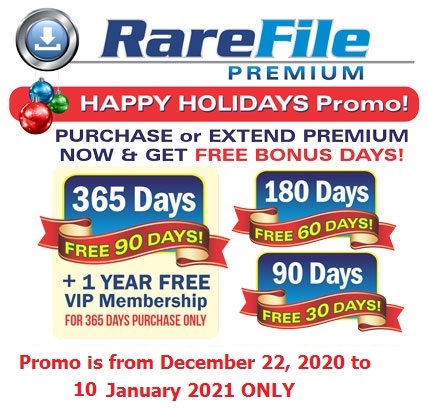 NOW IS THE BEST TIME TO PURCHASE OR RENEW YOUR RAREFILE PREMIUM ACCOUNT!
GET FREE BONUS DAYS! GET FREE 1-YEAR VIP MEMBERSHIP!
EXTENDED TO JANUARY 10, 2021
DUE TO POPULAR DEMAND!
PROMO IS FROM DECEMBER 22, 2020 TO JANUARY 10, 2021 ONLY!
FOR FIRST TIME PURCHASE – REGISTER FOR A FREE ACCOUNT WITH RAREFILE
AS A REGISTERED FREE USER, YOU CAN DOWNLOAD MORE AND BIGGER FILES!
.
FOR EXISTING RAREFILE PREMIUM ACCOUNT HOLDERS, PLEASE LOG-IN TO YOUR ACCOUNT.
AFTER REGISTERING, YOU CAN PURCHASE OR RENEW USING THIS LINK:

.
TO PURCHASE or RENEW RAREFILE PREMIUM
.
PLEASE MAKE SURE TO ACTIVATE YOUR NEW KEY ON YOUR RAREFILE ACCOUNT!
YOU CAN RENEW OR EXTEND AS MUCH AS YOU WANT! PURCHASE MULTIPLE RAREFILE PREMIUM PLANS AND APPLY THE KEY ONE AT A TIME ON YOUR ACCOUNT!
AFTER YOUR PURCHASE or RENEWAL or EXTENSION, MAKE SURE TO ACTIVE THE RAREFILE PREMIUM CODE (KEY) THAT YOU HAVE RECEIVED.
PLEASE EMAIL THE FOLLOWING DETAILS TO MAVFIL@GMAIL.COM ON THE SAME DAY THAT YOU ACTIVATED YOUR PPREMIUM KEY :
1. DATE OF PURCHASE (DECEMBER 22, 2020 to JANUARY 10, 2021 ONLY)
2. YOUR RAREFILE USER ID and/ or USERNAME
3. FIRST SIX (6) DIGITS/ CHARACTERS OF YOUR RAREFILE PREMIUM KEY
4. YOUR DESIRED VIP USERNAME
WE WILL VERIFY THIS WITH RAREFILE AND PROCESS YOUR VIP APPLICATION AFTER RECEIVING YOUR EMAIL.
.